BACK
OTOY Launches OctaneRender 2020 and the RNDR Network!
Apr. 27, 2020 (3 years)
LOS ANGELES, CA – April 27th, 2020 — Leader in GPU graphics OTOY, Inc. released OctaneRender 2020.1 the next generation of the industry's first and fastest GPU accelerated unbiased path-traced renderer – featuring OptiX™ 7 ray-tracing hardware acceleration powered by NVIDIA RTX and distributed GPU cloud rendering on the RNDR Network™. The releases – previewed at GTC Digital – bring unparalleled speed and scale to GPU rendering workflows across film, TV, motion graphics, design, and visualization.
OctaneRender 2020 is available today with unlimited access to the OctaneRender® ecosystem – including 20+ DCC plugin integrations and near unlimited GPU cloud rendering scale on the RNDR Network.

All New OctaneRender 2020 Integration for Unreal Engine 4
New Features in OctaneRender 2020.1
NVIDIA OptiX 7 RTX GPU Hardware Acceleration with 2-3x speed increases in many scenes using RTX on and up to 15-30x accelerations in fully RTX optimized scenes

Fast Spectral Random Walk SSS Skin and Spectral Universal Hair Material for instant unbiased, GPU based sub-surface scattering

C4D Native GPU Noises for procedural OSL-based Textures and Effects

OSL Volume Shaders and Artist-Friendly Complex Material Layers for simple intuitive node based material creation in OctaneRender

Universal Camera with OSL Distortion Maps, Split Focus Diopter, Optical Vignetting, Aperture Texture and In-Camera controls for advanced DOF, Aberration and Distortion

GPU Volume Displacement and Vectron Volumes bringing fully procedural Volumes to the Octane Node Graph along with new Vectron Mesh and Volume Operators

Octane Spectron Light Primitives with 4x faster Quad and Point Spectron Lights, Procedural Spread functions, and new Gobo Filters and Lights

LiveDB OSL Procedural Shaders including Autodesk's 3DSMax shader repository, and rebuilt Utility Nodes from OTOY Forums easily accessible within LiveDB
Native Curve and Point Primitive Attributes
Improved Rounded Edges with additional artist controls
ACES and Advanced Color Management with ACES EXR export
Other New Features Include: a Universal Dirt System, Volume Shadow Step Length controls, an improved Daylight System Sky Model, and a Hydra Render Delegate supporting the Houdini 18 Solaris viewport.

 
The 2020.1 release builds on OctaneRender's decade of real time rendering advancements with further improvements to AI Spectral Volumetric Denoising, AI Light, NVLink and Out-of-Core Geometry support. At GTC, OTOY CEO and Co-Founder Jules Urbach also previewed Sculptron™, OTOY's GPU mesh-based sculpting tool, EmbergenFX, a new GPU based real-time simulation system co-developed with JangaFX, Arnold Render Standard Surface support, and OctaneX for Metal (now in Beta).
According to Urbach, "As we look to holographic media in the 2020's and beyond, this release of OctaneRender 2020.1 and The RNDR Network sets the foundation for the next decade GPU graphics." Urbach added, "this marks an important step to reaching our long term goal of fully democratizing Hollywood grade photorealistic rendering – making it available on any application and any device powered by the cloud."
"The integration of NVIDIA OptiX means OctaneRender users can now benefit from the powerful speed and performance of NVIDIA RTX ray- tracing acceleration," says Bob Pette, VP of Professional Visualization, NVIDIA. "The ability to access NVIDIA GPU acceleration in the cloud through the OTOY RNDR Network on Microsoft Azure provides one of the most powerful, flexible and scalable solutions for production rendering available today."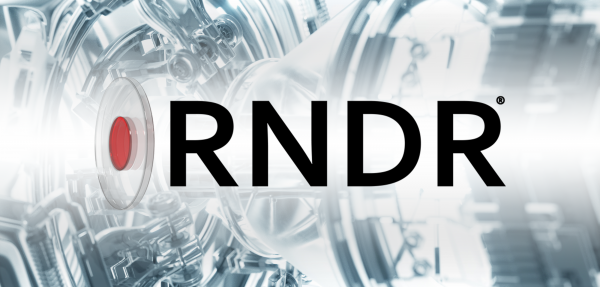 Alongside the OctaneRender 2020.1 release, OTOY is publicly unveiling the RNDR network – enabling artists to scale GPU cloud rendering on a vast network of decentralized GPUs to levels never before possible. RNDR is being released with Render Credits, providing accessible and artist friendly purchasing options, and a new Enterprise tier with integrations for Microsoft Azure and other public cloud providers. With RNDR's Enterprise tier, artists can access secure production-ready GPU nodes with studio-level Trusted Partner Network (TPN) IP security.
RNDR is now available for all OctaneRender 2020 users on rndr.otoy.com. Previews of OctaneRender 2020.2 and the complete Octane 2020 roadmap can be viewed here.
---
About OTOY Inc.
OTOY Inc. is the definitive cloud graphics company, pioneering technology that is redefining content creation and delivery for media and entertainment organizations around the world. OTOY's Academy Award®-winning technology is used by leading visual effects studios, artists, animators, designers, architects, and engineers, providing unprecedented creative freedom, new levels of realism, and new economics in content creation and distribution powered by the cloud. For more information, visit www.otoy.com.
Additional Resources: